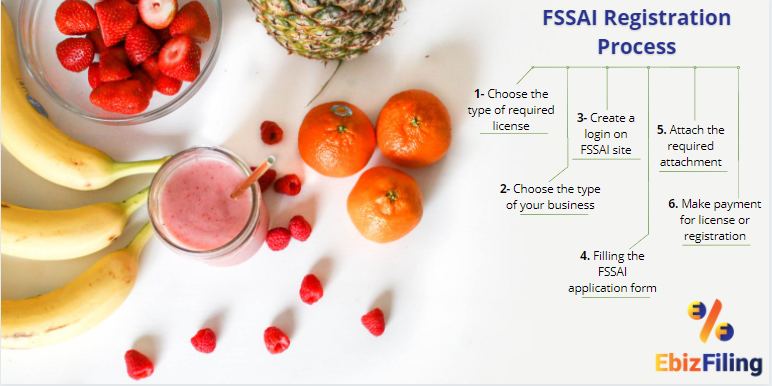 FSSAI Registration Process for E Commerce
FSSAI Registration Process for E Commerce
What is FSSAI registration / License?
FSSAI: Food Safety and Standards Authority of India is an autonomous body which works under the Ministry of Health & Family Welfare, GOI. FSSAI Registration or License is responsible for protecting and promoting public health through the regulation and supervision of food safety. In this article, we have discussed about the FSSAI registration / License process for E-Commerce.
FSSAI registration: FSSAI registration is a 14-digit registration Number or a Food license number which must be printed on food packages or Displayed in Premises. This 14 digit FSSAI license number gives data about the producer's permit or enrollment subtle elements, and the assembling state.
FSSAI Registration for E-Commerce
E-Commerce: E-commerce, also known as electronic commerce or internet commerce, refers to the buying and selling of goods or services using the internet, and the transfer of money and data to execute these transactions.
E-commerce is often used to refer to the sale of physical products online, but it can also describe any kind of commercial transaction that is facilitated through the internet.
For the purpose of this license FSSAI has defined the following two models of e-commerce business:
Inventory Based Model: Where the inventory and food service are owned by e-commerce FBO and is sold directly to the consumers.
Marketplace Based Model: E-commerce FBO is a facilitator of information technology platform to the buyer and seller/marketer/manufacturer.
Under the Food safety and standard Act, 2006 (FSSAI act) E-Commerce can not deal in food items without an FSSAI License.
Criteria for getting FSSAI registration / License for E-Commerce
E-Commerce dealing in any type of food product will have to take the FSSAI Central License only with no limit on the capacity .
To get your FSSAI Registration now with Ebizfiling Call on +919643203209 or mail on Info@ebizfiling.com.
FSSAI Registration process for E-Commerce
Following are the simple steps to obtain FSSAI registration:
Choose the type of required license:
Firstly step is to choose the type of license or registration is required as per your business.
If your food business is newly established then it will require FSSAI registration.
If your food business is old, the license will be required depending on your business turnover.
Choose the type of your business:
The next step is to decide the type of business for which you will apply for FSSAI registration / license.
FSSAI has fixed various kind of business categories for food business operators to apply for license or registration.
Here for all the E-Commerce, Central FSSAI License under heading the E-Commerce shall be applied.
Create a login on FSSAI site:
Once the type of business and the kind of business has been decided, the next step would be to login to the FSSAI site.
The applicant needs to create a user id on the FSSAI site and generate the user id and password.
Filling the FSSAI application form:
Next after creating a login, you required to fill the form.
There would be two forms to select from.
Form-A for registration & Form-B for license.
After selecting the form accordingly, fill all required fields, and choose the food code for which you are applying.
FSSAI has categorized the food and has specified Food code for various food products.
Attach the required attachment:
After filing up the form applicant needs to attach the required documents like applicant I'd and address proof, business address proof, FSMS declaration, Simple declaration, and many others as per the type of license.
Refer: The complete list of Documents required for FSSAI registration / License for E-Commerce.
Make payment for license or registration:
After filling up the form and attaching the applicant of the documents will move on the payment page where he has to make the payment for the application which will be as per the fees per year.
Time taken to get an FSSAI registration
A basic FSSAI License can be issued within 10 to 30 days.
A State and Central license can take a time period of 30 to 60 days.
Validity of FSSAI Registration
FSSAI licenses issued to food businesses are valid for a period of 1 to 5 years as chosen by the Food Business Operator.
It is mandatory to apply for license renewal 30 days before the expiry of the existing license.
Non-renewal of licenses can fetch a fine of Rs.100 per day until the renewal is done .
Any lapse in renewal within the stipulated date can result in the old license becoming deactivated and businesses will have to apply for a fresh license.
Also, If an entity is operating without applying for the Food Safety certificate, this is punishable under the Act. The FBO may face custody and/or a penalty of up to Rs. 5 lakhs.
About Ebizfiling -
EbizFiling is a concept that emerged with the progressive and intellectual mindset of like-minded people. It aims at delivering the end-to-
end incorporation, compliance, advisory, and management consultancy services to clients in India and abroad in all the best possible ways.