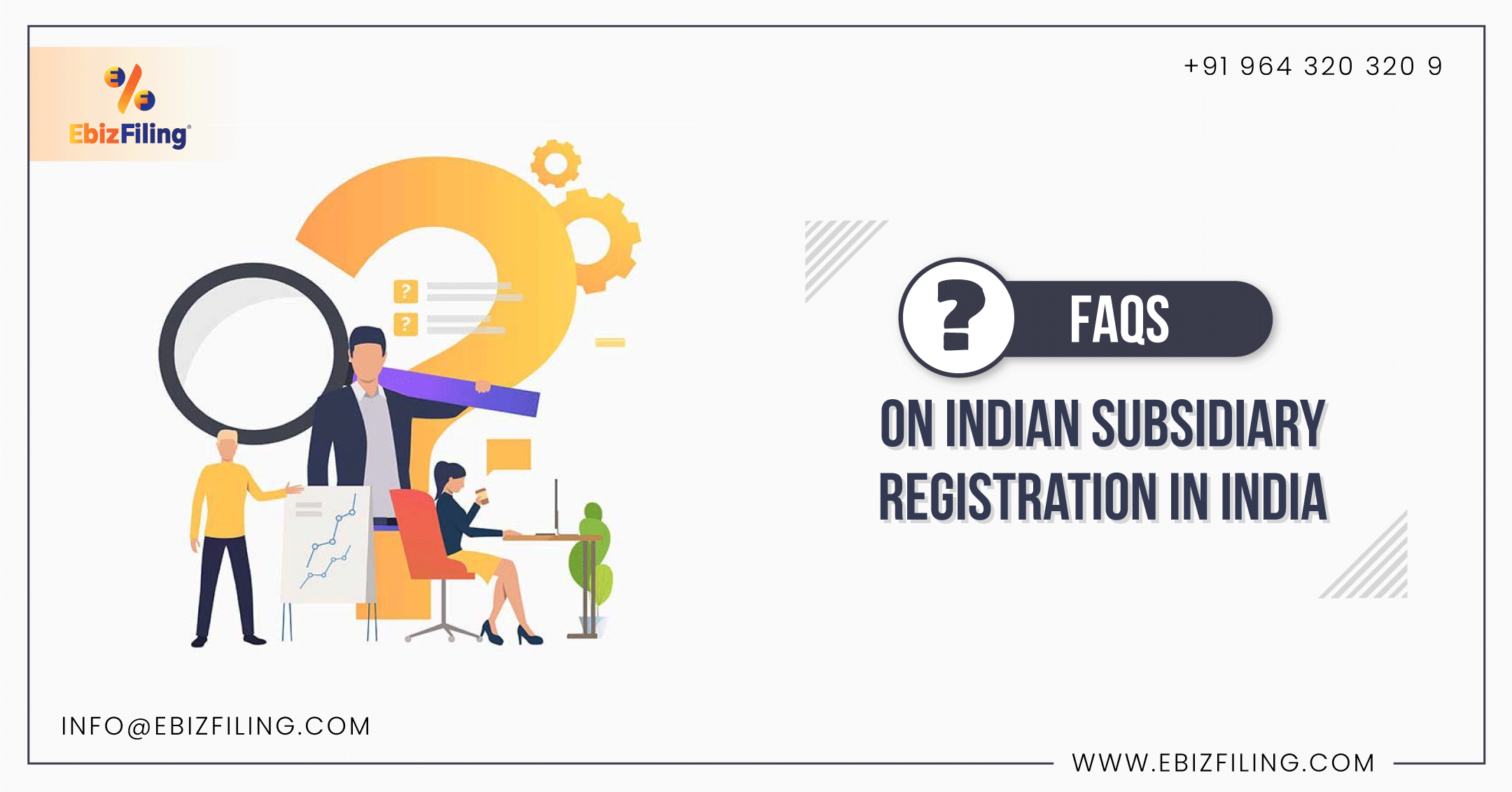 FAQs on Indian Subsidiary and Company Registration in India
Are you a non-resident or a foreigner wanting to get started with company registration in India? If you wish to register an Indian Subsidiary in India, then there might be many questions arising for which you would wish to seek answers. Here we have made a compilation of the Most Frequently Asked Questions.
Q1) We are a company operating outside India. Can we start a business in India and retain 100% of ownership?
Yes. We call it an Indian Subsidiary company of a Foreign Parent Company of yours. Indian Laws allow you to retain 100% ownership by subscribing to shares of the Indian company. 
Q2) Do we need a resident Indian to be a director in an Indian company?
Yes. Every company to be registered in India must have at least one Indian resident individual as a director. EbizFiling will help you with this, should you need any assistance.
Q3) We do not wish to allot any shares to Indian resident Director. Is that allowed?
Yes. It is not necessary that a director should also be a shareholder in an Indian Company. As we said earlier, you as a foreigner or foreign company can retain 100% ownership of the Indian Company. 
Q4) What is an apostille for the purpose of Indian Subsidiary (Company Registration in India)?
An Apostille is simply the name for a specialized certificate, issued by the Secretary of State. The Apostille is attached to your original document to verify it is legitimate and authentic so it will be accepted in one of the other countries that are members of the Hague Apostille Convention. India, since 2005, is a member of the Hague Convention of October 5, 1961 that abolished the requirement of legalization of foreign public documents.

Moreover, An apostille certificate can be used to authenticate public documents like passport copies, driver's license copies, business documents, judgments, extracts of a register, or a notarial attestation.

Any document Apostilled in one member country is acceptable in all the other 104 member countries, signatory to the referred convention of 1961 thus greatly simplifying the process of attestation by making it needless to get the documents attested in each or for each of the countries separately.

Our team will be happy to explain you more in detail.
Q5) What are the documents required for starting a business in India and Company Registration?
Ans. Here's a list of required documents for Indian Subsidiary (Company Registration in India):
Photograph of all the Directors and shareholders.

PAN Card

of all the Indian Directors and shareholders.

Apostille ID Proof of all the Directors (Driving License/Passport/Voter ID).

Electricity Bill or any other utility bill for the address proof of the Registered Office.
For more details, please visit our service page here.
Q6) How do we register our business name in India? 
Ans. The name of a Private Limited company shall end with the words 'Private Limited'. The proposed Company Name shall comply with the Company Name Availability Guidelines under the Companies Act 2013.
There are THREE ways for reserving a name for a New Company for registration.
RUN (Reserve Unique Name) is an easy and web-based application for the reservation of a Company Name. The name approved under RUN Process is valid for a period of 20 days from the date of approval.
Name Reservation along with the incorporation
The Company name can be reserved through SPICe (Simplified Proforma for Incorporating Company Electronically) incorporation process.
Use of Foreign Company Name / Trademark
If the proposed company is going to use the name/trademark of the Foreign body corporate, required No-Objection letters by way of board resolutions/formal authorization has to be submitted to the Registrar along with other documents.
We will help you to secure a name in India for your Indian Company. What's more, you can retain your Parent Company's name as an Indian Subsidiary. After all, you have done all the hard work generating a great reputation around it. Isn't it?
Q7) Can a non-resident be a director of an Indian Company?
Ans. Yes. An Indian company must have at least two directors (one of them must be an Indian Resident director). You can have more than 1 person as Foreign Director on an Indian Company's board. 
Q8) What are the benefits of starting a business (Company Registration) in India by a foreigner?
Ans. Read more about the benefits of starting a business in India by a foreigner
Q9) What are the documents required for a foreign director for incorporation of the company (Company Registration) in India?
Ans. Following are the documents required for a foreign director for Company Registration in India.
Identity Proof- Copy of passport

Additional Identity Proof- Driving Licence/National ID Card

Address Proof- Telephone bill/ Electricity bill/Bank statement/Any utility bill, these bills should not be older than two months.
Suggested Read:  Foreign Direct Investment  and  FEMA compliance
About Ebizfiling -
EbizFiling is a concept that emerged with the progressive and intellectual mindset of like-minded people. It aims at delivering the end-to-
end incorporation, compliance, advisory, and management consultancy services to clients in India and abroad in all the best possible ways.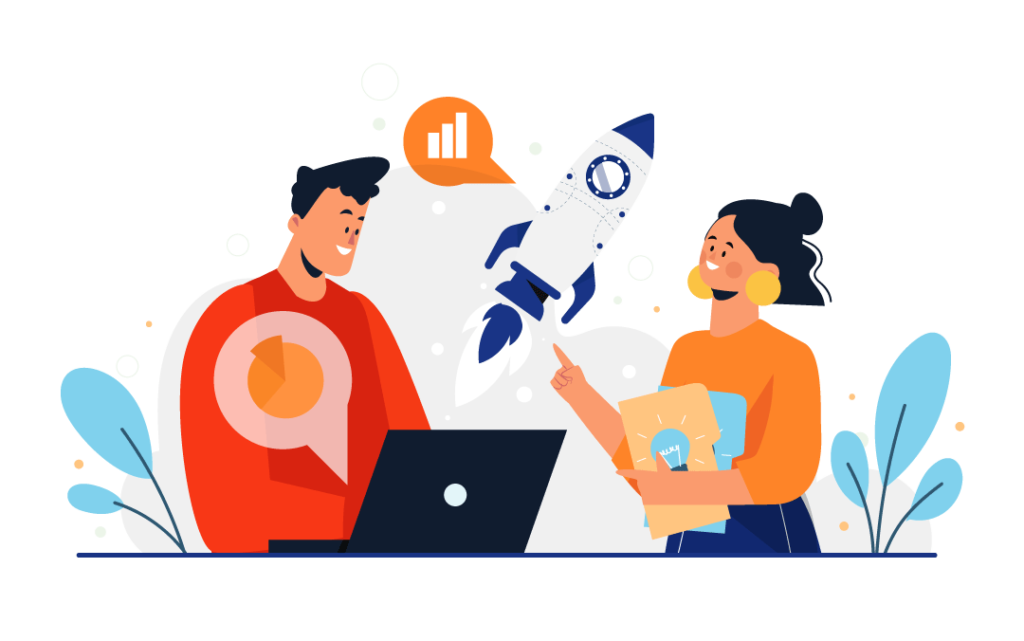 Reviews
Ms. Ishani and other team members are very helpful in the entire process of GST filing.

I really appreciate their support superb team.

Cheers!!!!*****

I was so satisfied with the services they provided to me. I had a great time working with them.

Great going Ebizfiling! We are satisfied with your services and would recommend them to others. Good luck for your future.