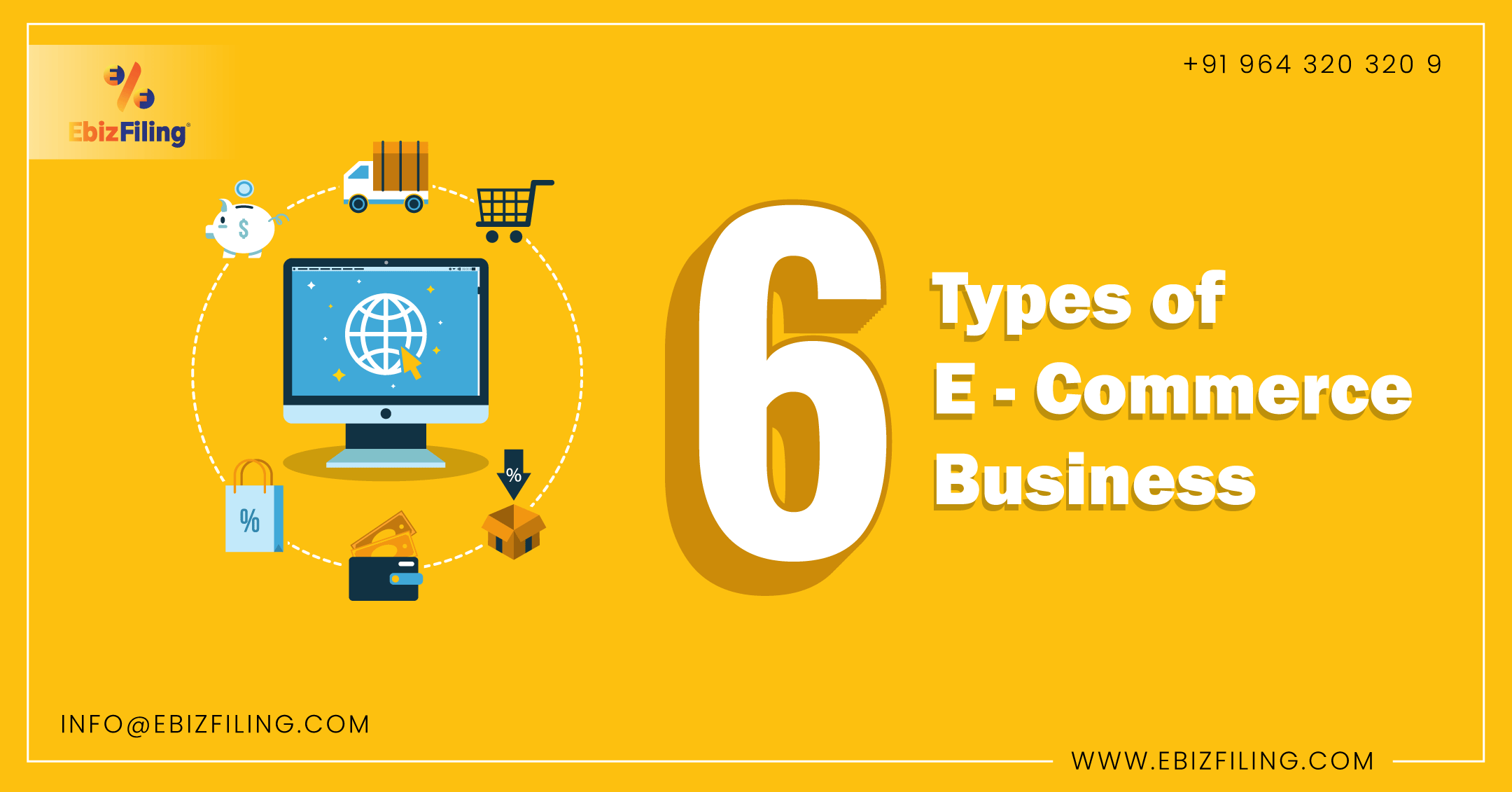 A guide on 6 Different types of E-commerce business
What is E-commerce Business and 6 Different types of E-commerce Business?
In this blog there is detailed information on types of e-commerce, Different types of e-commerce business, what is e-commerce, and other related information on e-commerce business.
Introduction
Many consumers are unaware that they are participating in an e-commerce transaction because it has become so routine. E-commerce can be difficult to define due to its extensive scope. However, because e-commerce is rapidly expanding, most, if not all, firms must grasp what defines an e-commerce transaction.
What is E-commerce?
The term "e-commerce" refers to the purchasing and selling of products, goods, and services over the internet. E-commerce also be called internet commerce or electronic commerce. These services are delivered through the internet network. E-commerce also includes the exchange of funds, money, and data.
Simultaneously, an e-commerce transaction does not necessitate the presence of a company; rather, it only necessitates the presence of two parties who are conducting a transaction online. Anything from retail sales to drop shipments is considered e-commerce. Businesses should learn about the many sorts of e-commerce to comprehend it better and its impact.
Advantages of E-commerce Business
The biggest benefit of e-commerce is that it allows you to reach a global market without having to make a large financial commitment.
An E-Commerce platform that is ready to go without having to spend a lot of money on software and setting up a supply chain.
Consumers from all over India can see your product on e-commerce sites. Your product order can be delivered to you from anywhere in India.
Because these E-Commerce platforms act as a middleman for you, there is no risk of payment default from customers.
The geographical boundaries of this style of trade are not specified, allowing consumers to make a worldwide decision, get relevant information, and evaluate offers from all potential providers, regardless of their location.
6 Types of E-commerce Business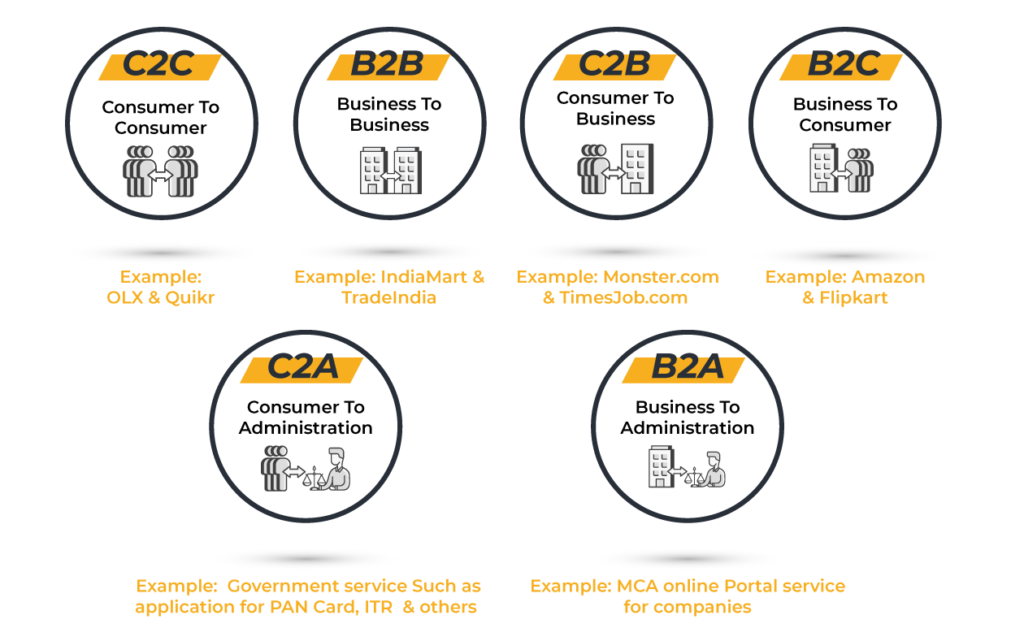 C2C (Consumer To Consumer)
Consumer to consumer refers to situations in which two or more people are in direct contact with one another. There is no company engaged. It enables people to sell their own belongings and assets directly to a buyer.  Bikes, Cars, electronics, and other such items are frequently traded. This model is followed by OLX, Quikr, and others.
B2B (Business to Business)
Here, businesses are doing business with one another. The final consumer is not involved in any way. As a result, only manufacturers, distributors, and merchants can conduct business online.
C2B (Consumer to Business)
This is the polar opposite of B2C; it is a consumer-to-business relationship. As a result, the customer gives the business a product or a service. Consider an IT freelancer who gives a corporation a demo and sells his product. This would be a business-to-business transaction.
B2C (Business to Consumer)
Here, the corporation will sell its goods and/or services directly to the consumer. On their websites, customers may browse products, see photographs, and read reviews. They then place their order, and the company ships the items directly to them. Flipkart, Amazon, and Jabong are just a few examples.
C2A (Consumer to Administration)
C2A occurs when a consumer provides something to the government, similar to B2A. Ordering a new government ID or Paying parking tickets are examples of C2A transactions. This must, however, be done online in order to be called a C2A e-commerce transaction. While "consumer to administration" and "Business to Administration" are not the most popular forms of e-commerce today, they are both vital to the future of online transactions.
B2A (Business to Administration)
By permitting the sharing of information through central websites, this paradigm permits online deals between companies and public administration, that is the government. It provides a platform for businesses to bid on government opportunities such as auctions, tenders, and application submissions, among other things. Because of the investments made in e-government, the scope of this model has now been expanded.
How does E-commerce impact Business?
Businesses have been compelled to change their long-term strategy due to the rapid expansion of e-commerce. When compared to in-person transactions, online sales include more processes and variables, the most crucial of which is delivery.
Businesses must concentrate on their supply networks in order to meet their consumers' shipping requests. Traditional supply chains have not always been efficient enough to keep firms competitive since the introduction of same-day shipping. E-commerce companies sometimes cannot afford to operate their own fleets, own and manage their facilities, or employ people at all stages of the shipping process.
Due to that, it is very essential for a business to work on the timings, managing of each activity, and all the other relatable information that will help in saving cost and more consumer-oriented products and services which will help the business to grow.
Suggested Read: All about GST Returns for E-commerce operators and sellers
Conclusion
E-commerce plays an important part in today's society; consumers and businesses alike utilize e-channels to purchase and sell their goods and services. There are numerous advantages to moving a business or running a business online, but there are certain points such as fast delivery, product assurance, and quality of products/services that need to be taken care of. To establish an e-commerce firm, an individual must first learn about the different types of e-commerce and then devise a strategy to assist their business to expand.
About Ebizfiling -
EbizFiling is a concept that emerged with the progressive and intellectual mindset of like-minded people. It aims at delivering the end-to-
end incorporation, compliance, advisory, and management consultancy services to clients in India and abroad in all the best possible ways.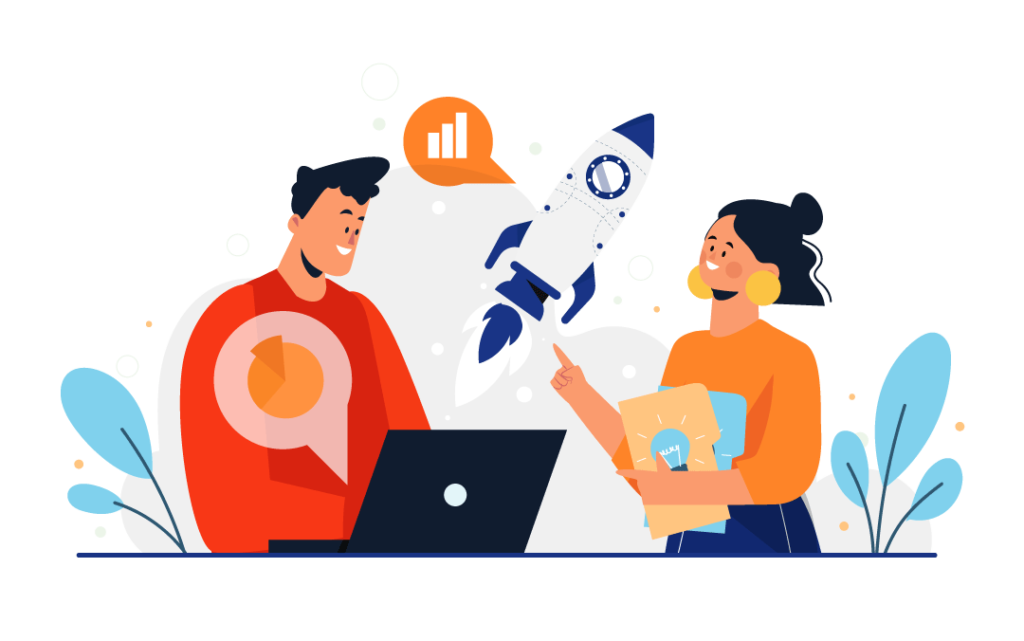 Reviews
I find the service, working approach and commitments very professional. Their progress updates are commendable. I really liked working with them.

I reached ebizfiling for DSC renewal , Ms anitha KV assisted in renewal it was done on timely and hassle free.

Very good and very satisfying service.