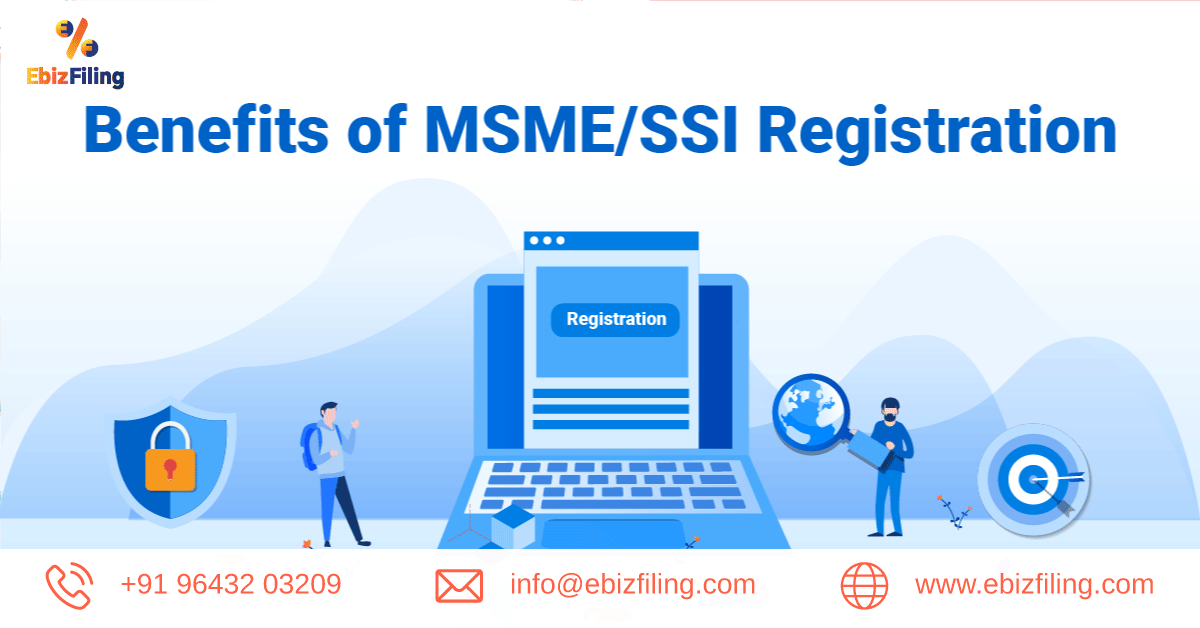 MSME Online Registration, SSI Online Registration, MSME Registration Online ( India )
Benefits of MSME / SSI Registration
The Micro, Small, and Medium-sized industries form an integral portion of India's economy. The government is running various subsidies and tax incentives for the small-scale industries in India. The micro, small, and medium-scale enterprises are the backbone of any developing economy. A lot of benefits are available to the MSME / SSI enterprises from the central and state governments. MSME Online registration is not mandatory however, it is advisable to register for the same.
The benefits provided to the MSME are designed to promote their growth and development. Various schemes, exemptions, and incentives can be availed by the small and medium-sized industries. As a leading MSME consultant, ebizfiling is proud to contribute by offering valuable services to such industries. We are offering MSME / SSI registration and Udyoga adhar services all over India.
What are Micro, Small & Medium Enterprises?
The MSME was earlier known as SSI or Small Scale Industries. As per MSMED Act 2006, the Micro, Small, and Medium enterprises can be a manufacturing unit as well service industry. While the manufacturing unit is defined on the basis of its investment in plant and machinery, the service industry is defined by its investment in the equipment. The amount of investment below the prescribed limits makes the firm eligible for MSME/SSI certificate.
New MSME definition as per Atma Nirbhar Bharat Abhiyan
On 13th May, 2020 Government of India announced some major relief to the MSMEs. And one of the major reliefs is that the Government Revised the definition of the MSME as a whole.
Under the new definitions, the distinction between manufacturing and services enterprises has been eliminated and the investments have been revised upwards and additional criteria of turnover has been introduced.
What is the new & Revised definition of MSME?
The new definition of MSME is as follows:

Micro Enterprise:  Manufacturing and services enterprises with investments up to Rs 1 crore and turnover up to Rs 5 crore will be classified as micro-enterprises.

Small Enterprise: For small enterprises, the investment criteria and the turnover criteria has been revised upwards to Rs 10 crore and Rs 50 crore respectively
 
Medium Enterprise: Enterprises with investment up to Rs 20 crore and turnover up to Rs 100 crore will be termed as medium enterprises.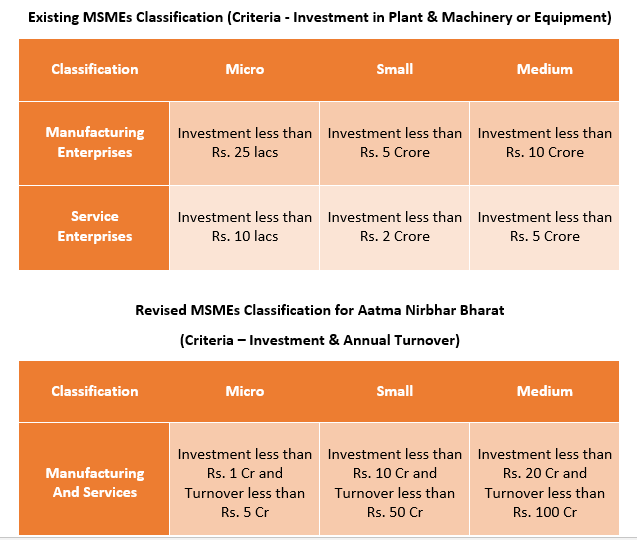 The new definition will benefit all the MSMes as they need not worry about growing in size; they will still be able to get quite a lot of benefits which otherwise, as an MSME, they have got.
Advantages of MSME / SSI in India
There are tonnes of benefits if you are an MSME or a small scale industry. Though MSME registrations are not mandatory, they are preferred due to the number of advantages they involve. Check out how abundant the benefits of having an MSME / SSI certificate are.
MSMEs can get credit facilities or loans from the bank with minimum guarantee and low interest rates.
Tax and Excise Exemptions – The government is introducing various tax incentives for promoting MSME. Besides excise duty exemption, the MSMEs also get relief for direct taxes during the initial years of establishment.
The central government is launching various skill-enhancing and credit-linked schemes to help MSMEs. Some of the latest schemes in the line are PMEGP (Prime Minister's Employment Generation Programme), CLCSS-TU (Credit linked Capital Subsidy Scheme for Technology Upgradation).
State governments also have their own schemes and exemptions for MSMEs of their state. The benefits are often in the form of tax subsidies, concessions on power tariff, exemptions from certain governmental compliance's, capital investment subsidies, and other support activities.
The credit facilities are the major benefit to the small, micro, and medium commercial units in India. Government helps in industrial extension support services and for the provision of training facilities. Training facilities are often given in the realm of marketing technologies, skill development, and technical upgradation. Various support activities are also given to construct industries in the remote and underdeveloped regions.
The MSMEs also get to participate in the government tenders free of cost. However, you need to get registered as MSME/SSI with the concerned state/central authorities.
Contact ebizfilling to get registrations services for availing the benefits of MSME schemes. We also guide you to get major tax exemptions you are eligible to get as an MSME. Our services are helping hundreds of Indian entrepreneurs and corporate to start and run their business smoothly. Avail MSME online registration, SSI online registration, MSME registration online ( India )
About Ebizfiling -
EbizFiling is a concept that emerged with the progressive and intellectual mindset of like-minded people. It aims at delivering the end-to-
end incorporation, compliance, advisory, and management consultancy services to clients in India and abroad in all the best possible ways.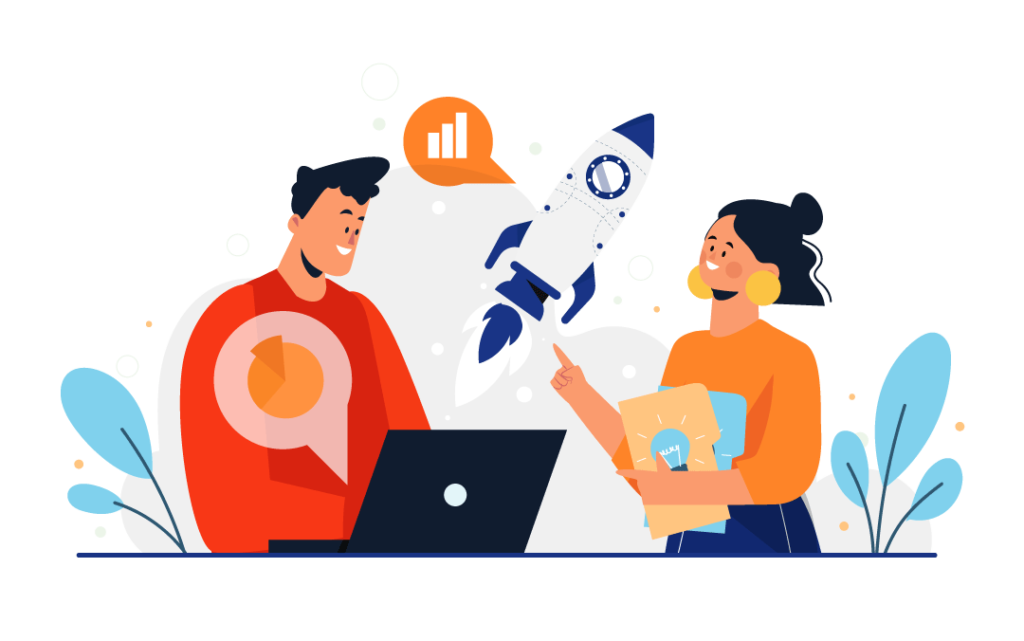 Reviews
Very efficient service to get yourself registered with your Business. Had a very good experience.

Excellent service by your team really like your service a lot specifically client handling is too good and special credit to my manager Dhwani mam you have given your best thank you so much for your kindness and supporting beahavior. I will surely give reference for your company.

Great work done by the Ebizfiling team. Good luck for the future.