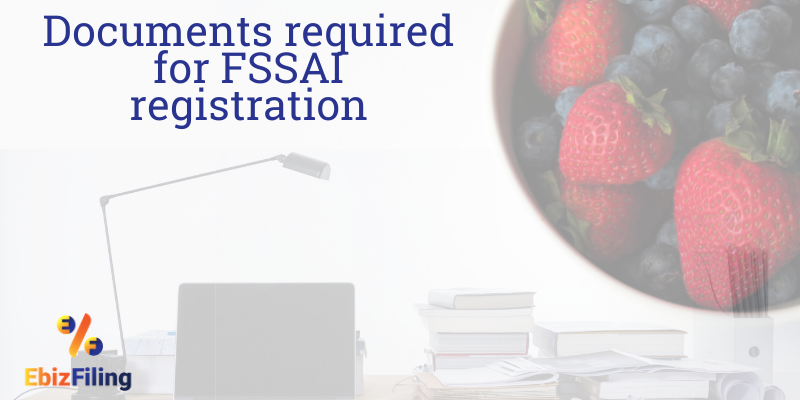 Documents required for FSSAI registration for Food Storage Activities
Documents required for FSSAI registration for Food Storage Activities
FSSAI Registration / License for Food Storage Activities
Any food business operator that is in the business of manufacturing, processing, storing, distributing and sale of food must mandatorily apply for and have an FSSAI Registration / License.
Same way all businesses relating Food Storage Activities require to get FSSAI registration/ license.
Storage (Cold / Refrigerated): Cold/refrigerated storage is an activity where refrigerated / frozen food products in packed or unpacked conditions are stored for further distribution in refrigeration / freezing storage facilities.
Storage (Controlled Atmosphere + Cold): Controlled Atmosphere storage is an activity where food products in packed or unpacked conditions are stored for further distribution in controlled atmosphere storage facilities. A controlled atmosphere, generally used for storage of dry commodities & agricultural produce in which the concentrations of oxygen, carbon dioxide and nitrogen, as well as the temperature and humidity of a storage room are regulated.
Storage (Except Controlled Atmosphere and Cold ): Storage is an activity where food products in packed or unpacked conditions are stored for further distribution in storage facilities, also called warehouses, go downs etc.
Under the Food safety and standard Act, 2006 (FSSAI act) one cannot deal in any kind of Storage activities without an FSSAI License.
Documents required for FSSAI registration Food Storage Activities
Basic documents required for FSSAI License
Photo Identity of the Food Business Operator.
Proof of the complete possession of premises (e.g. Rental Agreement ).
A Partnership Deed or a Certificate of Incorporation.
List of food products (that would be inputs as well as the final menu) to be dealt with.
A detailed food safety management plan.
The documents required for FSSAI registration for Food Storage Activities
Proof of Expected Annual Turnover(self-attested).
List of Directors with full address and contact details (mandatory for companies only).
Photo I.D and address proof issued by the Government authority of Proprietor / Partner / Director(s) / Authorized Signatory.
Proof of possession of premises. (Sale deed/ Rent agreement/ Electricity bill, etc.).
Partnership Deed/Self Declaration for Proprietorship/Memorandum & Articles of Association towards the constitution of the firm.
Form IX: Nomination of Persons by a Company along with the Board Resolution.
Validity of FSSAI Registration
FSSAI licenses issued to food businesses are valid for a period of 1 to 5 years as chosen by the Food Business Operator.
It is mandatory to apply for license renewal 30 days before the expiry of the existing license.
Non-renewal of licenses can fetch a fine of Rs.100 per day until the renewal is done .
Any lapse in renewal within the stipulated date can result in the old license becoming deactivated and businesses will have to apply for a fresh license.
Suggested Read: The process for FSSAI registration Process for Food Storage Activities.
About Ebizfiling -
EbizFiling is a concept that emerged with the progressive and intellectual mindset of like-minded people. It aims at delivering the end-to-
end incorporation, compliance, advisory, and management consultancy services to clients in India and abroad in all the best possible ways.