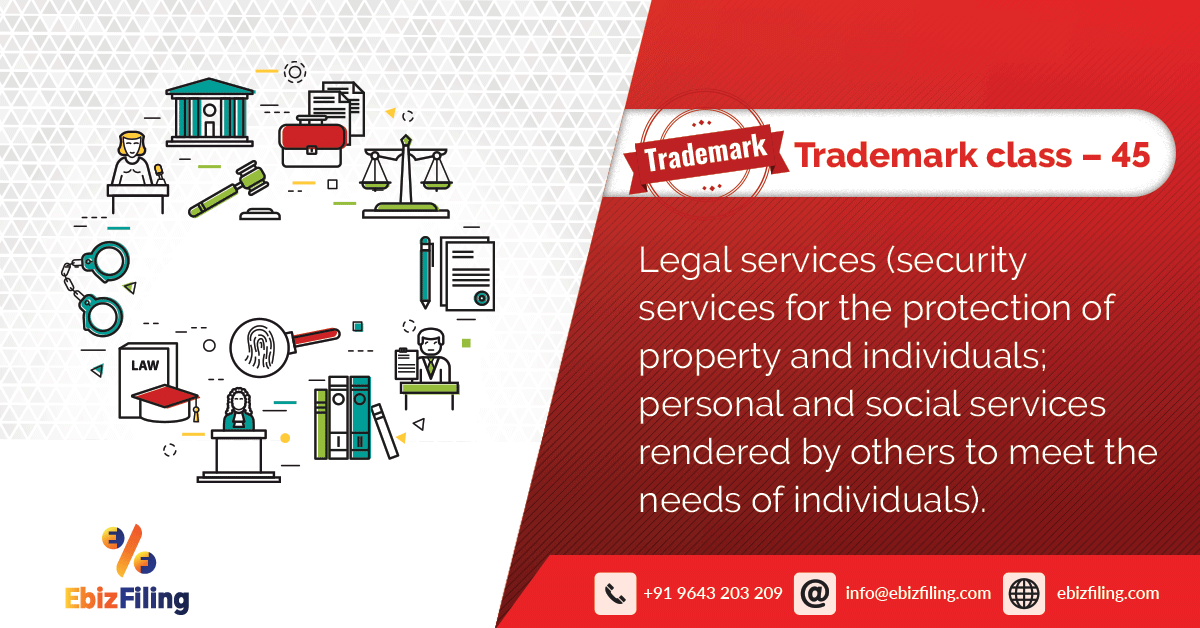 Trademark Class 45: Legal Services
Products and services are Classified by IPindia.gov.in according to specific categories (also called Classes). Trademarks have to be applied or registered under such specific class or classes as may be applicable. Herewith we are presenting an all inclusive guide to Class 45 of the Trademark Classification!
Trademark Class 45
Trademark Class 45 pertains to Legal services, Security services for the physical protection of tangible property and individuals, Personal and social services rendered by others to meet the needs of individuals.
For quick trademark registration  or comprehensive efiling or free consultation on public trademark search in India, please get in touch with us at www.ebizfiling.com  or write to us on info@ebizfiling.com or call +91 9643 203 209!
Comprehensive list of goods classified under Trademark Class 45.
Safety, rescue, security and enforcement services
Personal and social services namely Astrological and spiritual services, Detective services, Dating services, Funerary services, Religious services, Rental of clothing, Child services, House sitting services, Individual analysis and research services, Individual shopping services, Lost property services, Networking services, Personal letter writing, Pet services, Political lobbying services, Reminding services, Social escorting services, Wedding services
Legal services
And rental, hire and leasing in connection with the aforesaid, included in the class; and advice, consultancy and information for the aforesaid, included in the class.
A detailed list of goods classified under Trademark Class 45:
| | | |
| --- | --- | --- |
| Adoption agency services | Funerary undertaking | Missing person investigations |
| Alternative dispute resolution services | Genealogical research | Monitoring of burglar and security alarms |
| Arbitration services | Guard services | Monitoring intellectual property rights for legal advisory purposes |
| Baby sitting | Horoscope casting | Night guard services |
| Baggage inspection for security purposes | House sitting | Opening of security locks |
| Chaperoning / escorting in society [chaperoning] | Inspection of factories for safety purposes | Organization of religious meetings |
| Clothing rental | Intellectual property consultancy | Personal body guarding |
| Copyright management | Legal research | Personal background investigations |
| Crematorium services | Legal document preparation services | Pet sitting |
| Dating services | Legal administration of licences | Planning and arranging of wedding ceremonies |
| Detective agencies | Licensing of intellectual property | Registration of domain names [legal services] |
| Embalming services | Licensing of computer software [legal services] | Releasing doves for special occasions |
| Evening dress rental | On-line social networking services | Rental of safes |
| Rental of fire alarms | Litigation services | Security consultancy |
| Rental of fire extinguishers | Lost property return | Tracking of stolen property |
| Fire-fighting | Marriage agencies |   |
| Funerals | Mediation |   |
About Ebizfiling -
EbizFiling is a concept that emerged with the progressive and intellectual mindset of like-minded people. It aims at delivering the end-to-
end incorporation, compliance, advisory, and management consultancy services to clients in India and abroad in all the best possible ways.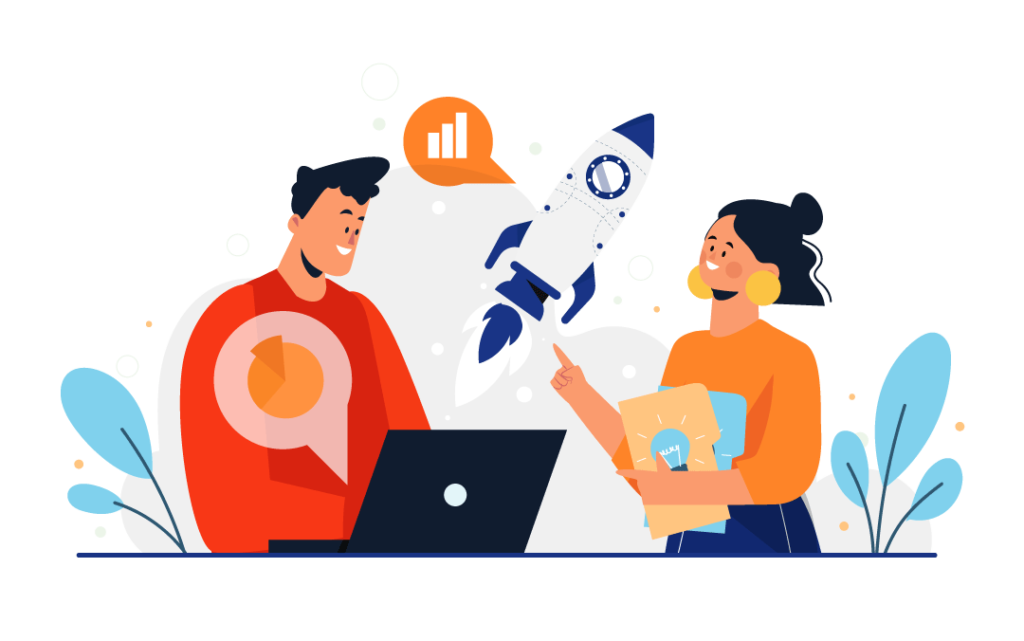 Reviews
Ebizfiling's customer dealing service is International level. Good.

Ebiz Filling team did all filling conveniently, team is flexible, approachable. I highly recommend EbizFilling to startups like for all financial services.

Very good Service. The staffs are very cooperative. Particularly Nilesh is very cooperative and punctual. They deliver all the documents on time. Thank you all for your support.