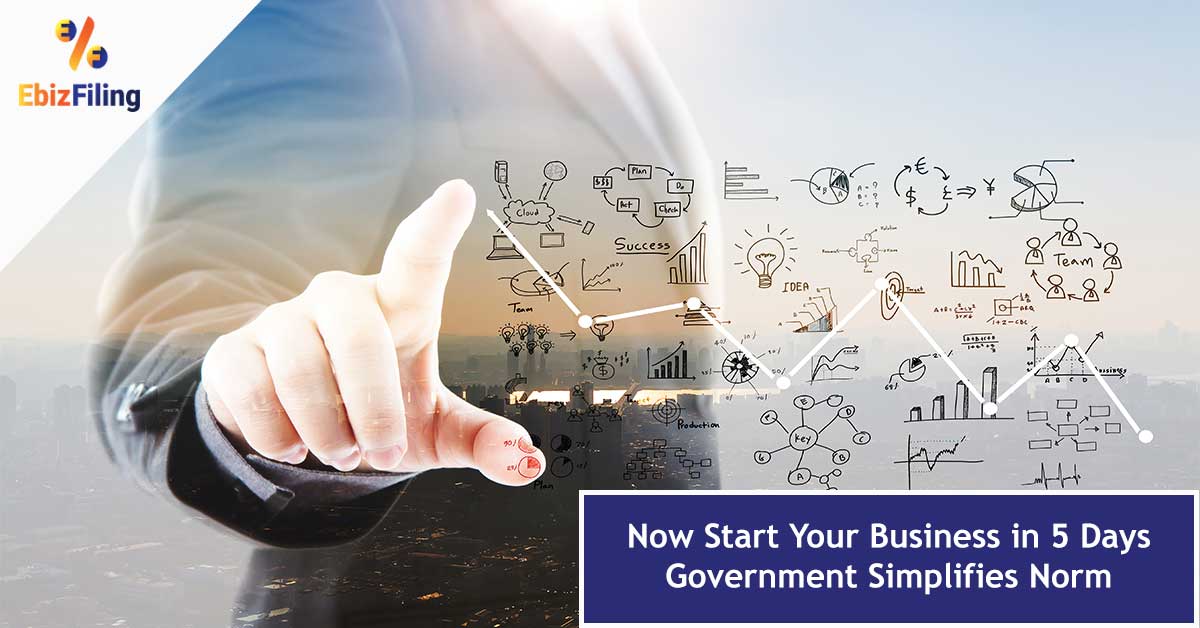 Start your business in 5 days Instead of 18- Government to slash the requirements & time taken for starting a new business. 
Earlier while it took 18 days to start your business, The Government is now all set to slash the time of 18 days to 5 days with minimum processes for starting a business. This decision has been taken to ease the hassle of doing business. Requirements of 10 processes will also be reduced to 5 processes.
Introduction of Two new forms for Incorporation
For this purpose, the Ministry of Corporate Affairs will unveil two new forms in a month. These two forms will be 'Spice Plus' and 'Agile Pro' which will replace six forms currently required to avail of these services. These forms will also replace the multiple individual forms required at present for 10 key services. These services are name reservation, incorporation as well as registration for various taxes such as goods and services tax. These two forms will provide access to GSTIN, PAN, TAN, ESIC, EPFO, DIN, bank accounts, and professional tax.
Why 'Spice Plus' & 'Agile Pro' forms would improve the ease of setting up a business in 5 Days?
Following are the main points why we can say that the introduction of these two forms would greatly improve the ease of setting up the business:
The new forms will be web-based

The forms will be much easier to use. 

The Spice Plus (incorporation form) will allow the business to apply for name and incorporation in the same form.

Businesses will now have to register with the Employee State Insurance Corporation (ESIC) and Employees' Provident Fund Organisation (EPFO) at the time of incorporation.

The Director Identification Number (DIN) and registration of Professional tax will be included in the said forms.

Registration of Permanent Account Number (PAN),

Tax deduction (TDS)

& Collection Account Number (TAN) will be done in these forms.

Also, registration for GST i.e. GST Identification Number (GSTIN) will also be done at the time of incorporation through these forms.
All of these will reduce the hassle and consumption of time to a great extent as all of the above processes can be done through these two forms only. 
The government has initiated the process to introduce the SPICe plus form.
Coordination & tie-up with State Governments & banks for this purpose: 
For this purpose, the Ministries of Corporate Affairs, Finance, and Labour, as well as the State Government of Maharashtra had coordinated and has aimed to bring about this reform.
Apart from this, The government had also tied up with eight banks to help newly registered businesses to apply for bank accounts at the time of incorporation, the official said.
It is interesting to note that On the World Bank's list, India is ranked 136th out of 190 economies in the category of ease of starting a business.
With India climbing 14 ranks to 63rd in the latest rankings, these move will surely help in improving ease of doing business which has been key agenda of the Government for a long.
Get in touch with Ebizfiling to get Easy Incorporation services at affordable prices. You may call on +91 9643203209 or email us at info@ebizfiling.com
About Ebizfiling -
EbizFiling is a concept that emerged with the progressive and intellectual mindset of like-minded people. It aims at delivering the end-to-
end incorporation, compliance, advisory, and management consultancy services to clients in India and abroad in all the best possible ways.