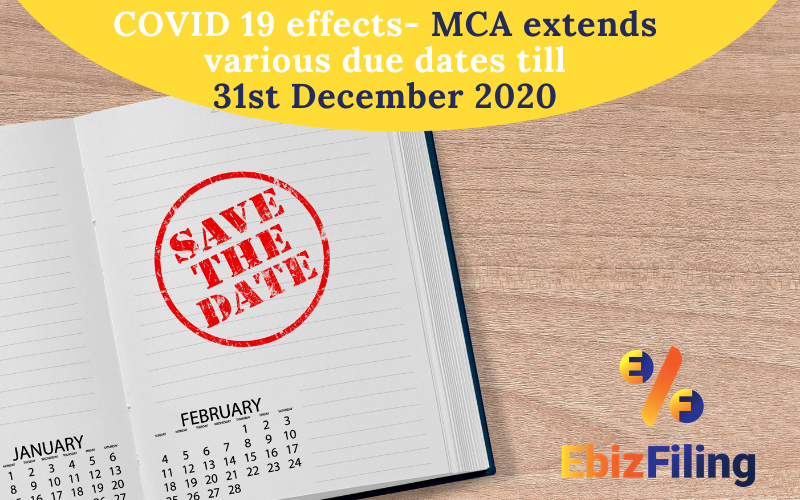 Companies Fresh Start Scheme 2020 and LLP Settlement Scheme 2020- Due Date extended to 31st December 2020
Important Updates in due date of AOC 4 and MGT 7 For FY 2021-2022
Keeping in view of various requests received from various stakeholders, the MCA has granted the relaxation on levy of additional fees for Annual Financial Statement filings required to be done in the Financial Year 2021- 22. The ministry of Corporate Affairs has extended the due date for filing of e-forms AOC 4, AOC 4(CFS), AOC 4 XBRL, AOC 4 Non-XBRL for the Financial Year 2021-22 till 15.02.2022, and for filing e forms MGT 7/MGT 7A is 28.02.2022.
Important Update
As per the MCA notification w.e.f. January 2021, on late filing of E-form MGT 7 and AOC 4/ AOC-4 XBRL/AOC-4 CFS/AOC-4 NBFC for the FY 2019-20, the additional fees will be applied.
The due date of form filing shall be computed based on the actual date of AGM or due date/extended due date of AGM as the case may be.
Post 31st December 2020, additional fee shall be applicable from the actual date of AGM or due date/extended due date of AGM + 30/60 days as the case may be and Rs.100 per day shall be charged starting from such day even if such date falls prior to 31st December 2020.
Also note that, the Field 'SRN of the application filed for extension' (GNL-1) in eform MGT-7 is made optional for FY 2019-20 w.e.f 01 January 2021 due to blanket extension provided for all companies to conduct AGM.
Also note that all the late filings of the DIR 3 KYC shall be done with the penalty of INR 5000/-.
As everyone is aware that the impact of COVID-19 pandemic has been harsh and the economy is struggling to come out of the crisis. The corporates are facing challenging times to meet the ends and function smoothly. Amid all of this a request was made to the Hon'ble Finance minister and Ministry of Corporate Affairs by various corporate bodies and Chartered Accountant Associations bodies for the extension of various due dates for filing form CFSS- 2020, LLP Settlement Scheme, 2020 (LSS 2020) and for various other annual filings till 31st December, 2020.
Keeping in view the requests received, the Finance Minister Nirmala Sitharaman went on twitter to announce the extension of the various schemes till 31.12.2020. where she said "The Ministry of corporate Affairs has extended the duration of several schemes till 31.12.2020 in view of the continues disruption in certain parts of the country and to provide greater Ease of doing business." The series of tweets done by the official twitter handle of the Finance Minister are as follows: