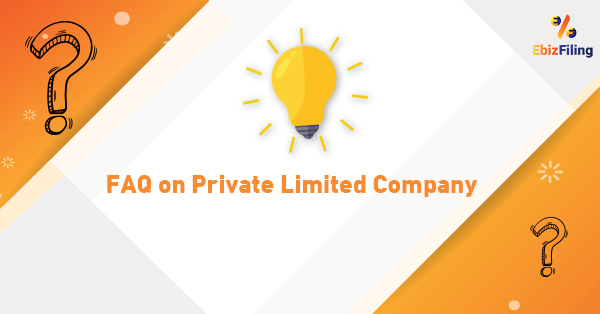 How to Register Private Limited Company in India?
How to Register Private Limited Company in India
The First question that comes to our mind we decide to register a Private limited Company in India is that "How to register a Pvt Ltd Company in India?" Well, the procedure of registering a private limited company in India is a complete online process and most prevalent and popular. The three major bodies governing the registration of a Private limited company are the Ministry of Corporate Affairs, Companies Act, 2013 and the Companies Incorporation Rules, 2014.
Before Knowing the whole procedure of Private Limited company Let us first be clear with the concept of private limited company One can in simple terms define it as a type of company with limited liability, legal protection and restricts share transfer to the general public.
Private Limited Company:
A Private Limited Company is that type of company that offers Limited Liability or legal Protection to its shareholders. Private Limited Company in India lies somewhere in between a partnership firm and a widely owned public company. It can be registered with a minimum of two people. A person can be both a director and shareholder in a Private Limited Company.
How to register Private Limited company in India ?
As far as the answer to the question "How to register a Pvt Lrd Company in India?" concerns, the process has been modified by the MCA. Earlier while to incorporate a Pvt Ltd Company, Form INC 32 i.e Form Spice was necessary, the MCA has recently replaced the earlier SPICe form with a new web form called SPICe+ (SPICe Plus). Hence, Incorporating a Private Limited Company is even easier now.Let us now understand the process of registrering a Pvt Ltd Company in India through SPICe Plus (SPICe +):
With the introduction of SPICe plus, now you can Incorporate a Private Limited Company, with a Single application for Name reservation, Incorporation, DIN allotment, Mandatory issue of PAN, TAN, EPFO, ESIC, Profession Tax (Maharashtra), and Opening of Bank Account.
SPICe+ is divided in two parts as follows:
1. Part A: Name reservation for company:
Apply for name reservation of the company in Part A of the form Spice+.
It can be used for taking name approval of the proposed Company and also for filing Company registration in one go.
2. Part B: In Part B of the Form Spice+, apply for the following services:
Incorporation
DIN allotment
Mandatory issue of PAN
Mandatory issue of TAN
Mandatory issue of EPFO registration
Mandatory issue of ESIC registratio
Mandatory issue of Profession Tax registration(Maharashtra)
Mandatory Opening of Bank Account for the Company and
Allotment of GSTIN (if so applied for)
The SPICe+ application form can be applied in two ways:
Part A (Name Reservation) and Part B (All Other Services) can be applied for
on a simultaneous basis.
Part A can be applied for initially, and upon reservation of the name, Part B can be applied for.
That means, you may either choose to submit Part-A for reserving a name first and thereafter submit Part B for incorporation & other services or you can File Part A and B together at one go for incorporating a new company and availing the bouquet of services as above.
Documents required to be attached with SPICe plus form for Pvt Ltd Company registration in India:
Memorandum of Association
Articles of Association
Declaration by the first director(s) and subscriber(s) (Affidavit not required)
Proof of office address
Copy of utility bills
Copy of certificate of incorporation of foreign body corporate (if any)
A resolution passed by promoter company
The interest of first director(s) in other entities
Consent of Nominee (INC–3)
Proof of identity as well as the residential address of subscribers
Proof of identity as well as residential address of the nominee
Proof of identity and address of Applicant I, II, III
Resolution of unregistered companies in case of Chapter XXI (Part 1) Companies
Declaration in Form No. INC – 14
Declaration in Form No. INC – 15
Optional attachments (if any)
Attachments – Part A
FAQs on Company Registration
1.What is the meaning of a private limited company?
A private limited company, or LTD, is a type of privately held small business entity, in which owner liability is limited to their shares, the firm is limited to having 50 or fewer shareholders, and shares are prohibited from being publicly traded. A company becomes an independent legal structure when it incorporates.
2.What are the characteristics of a private limited company?
Characteristics of Private Limited Company. Members– To start a company, a minimum number of 2 members are required and a maximum number of 200 members as per the provisions of the Companies Act, 2013. Limited Liability– The liability of each member or shareholders is limited.
3.What documents are required to register a company in India?
Photograph of all the Directors
PAN Card of all the Directors
ID Proof of all the Directors (Driving License/Passport/Voter ID)
Electricity Bill or any other utility bill for the address proof of the Registered Office
4.How much does it cost to register a private limited company in India?
Cost: One-time cost of registration at Ebizfiling is Rs. 6999/- for authorized capital up to Rs. 1 lakh, Inclusive of:
2 Digital Signature Certificates
2 Director Identification Numbers
1 Name Approval Application under RUN
Stamp duty on INR 1 Lakh Authorized Capital
Company Incorporation using SPICe
MOA & AOA
PAN
TAN
5.Can one person start a private limited company?
Minimum two directors are required to incorporate a private limited company. Companies Act, 2013, has introduced the concept of One Person Company (OPC) private limited, in which a single individual can start a private limited company. Thus, if you plan to incorporate OPC, you can incorporate it with only one director.
Get Started With PVT LTD Company in India
About EbizFiling.com :
EbizFiling.com is a motivated and progressive concept conceived by like-minded people, which helps small, medium and large businesses to fulfill all compliance requirements of Indian Laws.
Get in touch for a free consultation on info@ebizfiling.com or call 9643203209.
About Ebizfiling -
EbizFiling is a concept that emerged with the progressive and intellectual mindset of like-minded people. It aims at delivering the end-to-
end incorporation, compliance, advisory, and management consultancy services to clients in India and abroad in all the best possible ways.